OVERLIJDEN ROSALIE GEENEN
Hierbij melden wij het overlijden van Rosalie Geenen. Rosalie is de mama van Walther Hannes, de oma van Gert Hannes en Greet. Ze is ook de overgrootmoeder van onze junior members Bo en Tijl. Condoleanties kunnen gericht worden naar info@redknightsbelgiumii.be of aan de familie.
SAVE THE DATE! GATHERING OF THE KNIGHTS @ RKBII!
To our annual June tradition, we organize our motorcycle ride once again for the benefit of a good cause. Every year we choose a different goal, to which the full proceeds of the motorcycle meeting will go. This year we chose 'De Bevertjes'. It's a school nearby our clubhouse, where toddlers and children with moderate to severe motor and / or mental retardation learn to learn. Each child receives personal guidance to stimulate and support total development. Here, children can learn social skills by playing together and every child can discover his/her talents. More information about the school can be found here in the video that the school made.
'De Bevertjes' from Oedelem can use the budget for expanding their cuddling room. 'Snoezelen' is a combination of sniffing, cuddling, wellness and feathering. It is a process of discovery and stimulation, but also of relaxing, unwinding and enjoying. It stimulates different senses and increases the well-being of people with disabilities (source, 2017).
We expect everyone who wants to support on the 16th and 17th of June @ Oostkamp. More information about the event can be found here.
We welcome you all! See you soon!!
---
NEW YEAR, NEW FACES
Every year we have a habit to knight our newest members and praise them with a fitting nickname. There are no new members to welcome this year, but some existing members were yet to honor. We welcome in our midst:
Johan Luyts as 'Nightwatch'
Dirk Van den Steen as 'Havana'
Peter Willekens as 'Peter pan'
Astrid Fauché as 'Escargot'
John Provyn as 'Iso be good'
Laurien De Jaegher as 'Baking nurse'
Feel free to ask for the lovely stories that comes with those nicknames. Photo's of the ceremony can be found here.
Beside the knighting, we chose Chuck to be our Treasurer, Buba to be our President and Groggy to be our Quartermaster once again. A new sprout this year: Baking Nurse will take over the role of webmaster. We thank Shrek for his amazing job in the past years.
---
WISHES FROM RKBII
Merry Christmas and a happy New Year! We wish you all a weekly ride, more time together and beautiful new accessories. After all, we know you love your bike like we do! Have gorgeous travelings, have a safe stay on the roads in 2018 and see you soon at one of our events!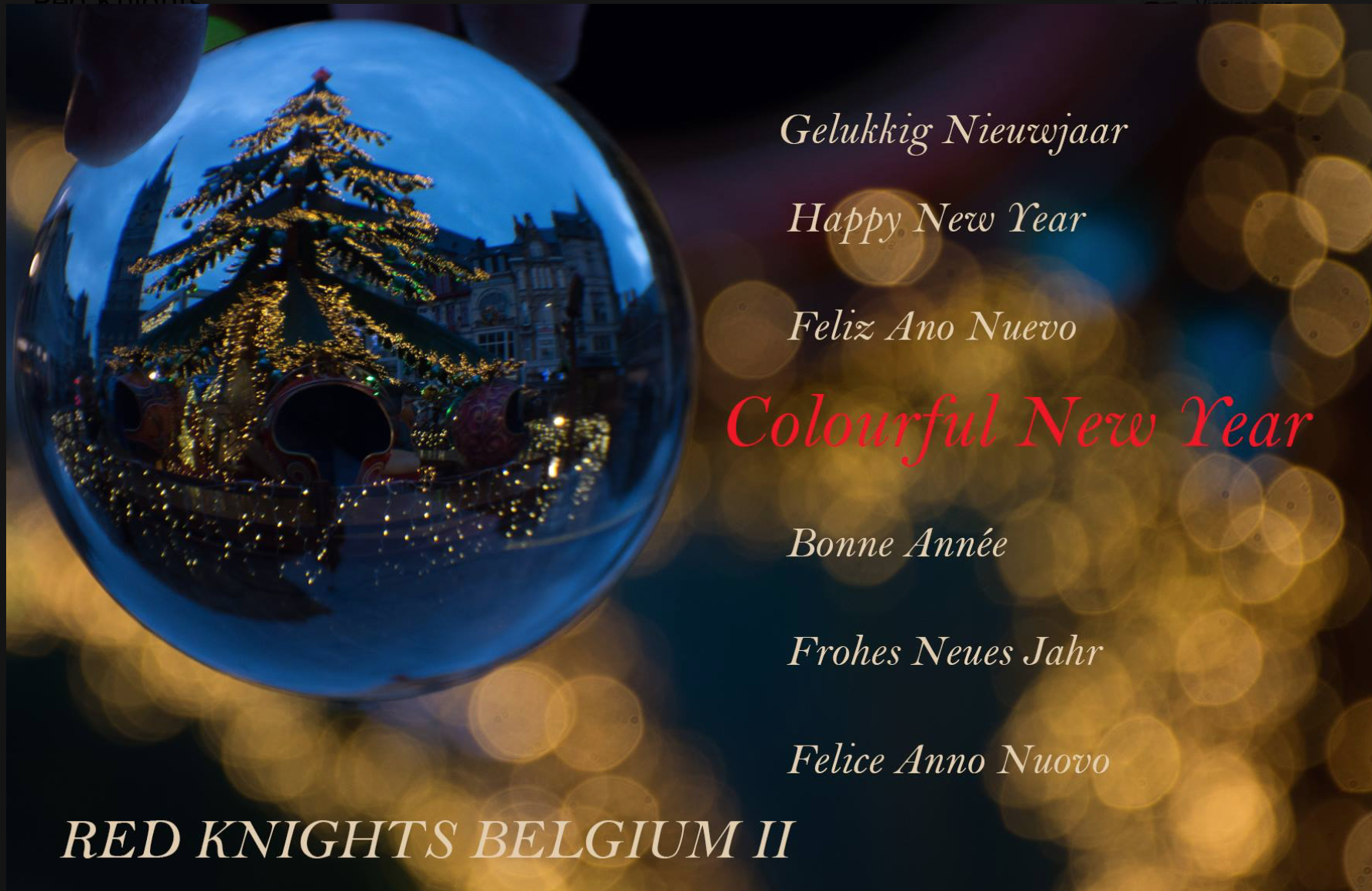 ---
EUCON 2018
This year, the international convention of the Red Knights will take place in the magical Cork, Ireland. All will take place from 7th till 9th of September 2018. All Red Knights are welcome. Registration and questions, please contact our host RK Ireland 1 via their website.
---
LOSS OF A KNIGHT'S BELOVED WIFE
With deep grief we announce you the loss of one of our members' beloved wife, Ann Van Neste. Only 51 years old, she was ripped away from this life. She was loved by all of us, in particular Red Knights Johan Van den Steen (BBQ) as her husband, Dirk Van den Steen as her brother in law and Julie Van den Steen (Julietje) as her niece.
"Those we love don't go away…
They walk beside us every day…
Unseen unheard, but always here…
Still loved, still missed, still very dear…"
 We'll meet again, Ann. One day sure…
---